click on pictures to enlarge.
© Pictures : MJX, except otherwise specified.
by Phil Cooreman
After a semi-disappointment in 2000, where fossils in a great majority (and by the Moroccan merchants in particular!) did not correspond to our expectations, and where the prices seemed significant for a rather average quality, we awaited impatiently the edition 2001, in order to see whether the tendency would continue or would make an about-turn.
Not only the tendency made a remarkable about-turn, but this vintage 2001 seems to me one of the best I knew considering the fossils I saw!
Among the innovations, the South American exhibitors brought very beautiful material this year, of course the best specimens are expensive, but quality is always paid.
The inventory which will follow will respect the order of the geological times as far as possible.
Paleozoic
Two Czech exhibitors sold many plates with Trilobites of Cambrian, but the price reached ceilings seldom seen for an unequal quality.
Like each year, Nord Fossil presents remarkable Trilobites of Ordovician of Volchov River (close to Saint-Petersbourg), certain blocks present one or more rosy trilobites sometimes in association with cystoïdes of a great beauty! The current species are still accessible, but the rarest ones can briskly exceed the 10000 FF!
Pretty ophiures of Caradocian (Ordovician) were sold at correct prices by a Moroccan exhibitor and also (even less expensive!) by our friend Patrick Catto, regular attendant to our annual show at Autoworld.
Pretty rock plates sold by a Polish exhibitor showed tight assemblies of Tentaculites sp. of Silurian of Ukraine, it is a systematic fossil which is not really obvious to find out at fossils exhibitions, and at a democratic price in addition!
Splendid plates with crinoids Scyphocrinus elegans of lower Devonian from the surroundings of Erfoud, in Morocco, very aesthetic and were sold of course by several local traders, but also by Michael Vogt, the German geologist. Certain plates approached near one square meter of surface.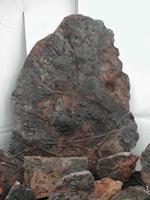 Scyphocrinus elegans - Lower Devonian - Erfoud, Maroc (photo PCN)
Batches of solitary corals Calceola sandalina, red color brick, Eifelian, coming from Moroccan Atlas.
Always at the Moroccans, some superb plates with many Devonian trilobites "died in family in an accident of coach". Hello assemblies !…
In the large tent "The International Mineralogy", Bolivian trilobites were even more adulterated than the worst Moroccan specimens, and were in addition very expensive! A real big rip-off !
In the Lyceum our Thévenin friends (of the surroundings of Auxerre) exposed a good material of Carboniferous of the surroundings of Saint-Etienne. To see absolutely by the systematicians of the fossils of the Coal Measures!
Traces and tracks of Amphibians of Permian of the Sainte-Affrique surroundings (not very far from Millau) were negotiated rather expensive. One can definitely better see in the Atelier Espace Paléo 3J...
Mesozoic
Pine cones of Jurassic from Patagonia were sold at the two "South American" stands of Espace Fossiles (but also at Dernbach), in addition to usual Araucarioxylon mirabilis, a variety much larger (and more expensive!) was visible, as well as pretty small Paraaraucaria sp.. The prices have clearly seemed to have increased for two years, making these specimens almost prohibitive!
Prints of dinosaurs of Hettangian of the surroundings of Millau, were very expensive. Let us quote Grallator variabilis, Grallator minusculus.
Splendid pyritized ammonites of Toarcian of the surroundings of Mende, in Lozere, coming from rather old collections. They were gone very quickly in spite of their price!
Some Lopha marshii of good quality to very average. Coming from Bajocian of Ringsheim (Germany), these specimens can be very aesthetic, but they were posted rather expensive. I remember to have acquired, by exchange, specimens definitely more beautiful!
Very beautiful material (Ammonites mainly) of the Callovian stages, Oxfordian and Cenomanian of the Vaches-Noires made the happiness of the experts. Especially that these specimens, found twenty years ago, are far more better than those one can still hope to currently find…
Many Callovian ammonites of the surroundings of Niort, and bajocian of the by-pass of Caen could be bought at Espace Fossile.
One can quote more and more ammonites coming from Madagascar, the stages go from Callovian in Cenomanian while passing by Albian. Very pretty polished specimens were sold by the kilo and very quickly found purchaser! Large Gault nautiles were not even put up for the sale, having been taken again by other exhibitors long before the opening of the show.
Very pretty regular sea urchins of Cenomanian of Ziz Taouzwere Valley sold at handsome price by certain exhibitors, others not hesitating to sell them three to four times more! Let us quote Heterodiadema lybicum, Tetragramma royssei, Dorocidaris sp.
In the court of the Lycée, a Spanish exhibitor sold superb material: very pretty Tetragramma sea urchins of Cenomanian of Teruel, two teeth of sharks (Isurus hastalis and Carcharodon carcharias) of Almeria, and beautiful sea urchins Schizechinus sp. of Pliocene of Almeria.
One could also see remainders of dinosaurs of Moroccan Cenomanian, bones, claws and teeth of Spinosaurus sp. (to be seen in flesh and bone in the film Jurassic Park III which was on our screens on August 8, 2001), Carcharodontosaurus saharicus, and other species undoubtedly. But the prices were very significant for material finally very fragmentary.
A superb sponge Hallirhoa costata of Cenomanien of the Vaches-Noires, very required by your servant, did not even have time to be exposed!
Ammonites of Moroccan Turonian are seen more and more, even if their price is often overrates.
Pretty Rastellum of Santonien of the surroundings of Saintes which did not remain a long time on their stand...
Cenozoic
Very many teeth Otodus obliquus of Ypresian by the Moroccan merchants, but it 's hell to find a original and not adulterated specimen! The central points are stuck to two pieces of root carrying each one a side dentil (inevitably not of the same color), and the whole is supplemented by whitish cement! What a mess…
A marvellous fossil of tortoise of the Eocene (Green River, the USA) complete with the carapace, the head, the legs and the tail seemed a good bargain: it was about a so perfect moulding that specialists could have been mistaken there, even to the magnifying glass! Bad point, that was not indicated on the part.Good point, on request the exhibitor specified well that it was about a moulding. To 3400 FF, that was better. The original was available also, but for… 200000 FF!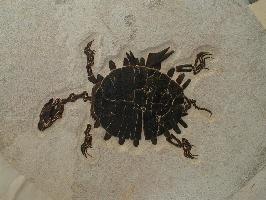 Turtle fossil of the Eocene (Green River, USA) (photo PCN)
A very beautiful carapace of fossil tortoise Testudo thompsoni of Oligocène of White River, definitely reasonable, was acquired by your correspondent.
For the amateurs of sea urchins, very many specimens of Clypeaster were seen, which come from Spain, of Italy, of Austria and Portugal. They are dated of Miocene. The prices vary from the simple one to the sextuple, according to the size, the quality and the origine.
From Morocco, for the first time, the small sea urchins Echinolampas sp., also of Miocene. Unfortunately it is often necessary in the batches brought by the Maghrebian merchants to select the valid specimens which are certainly not legion there.
Great quantities of remainders of the vertebrate ones of Miocene from Copiapo, in the desert of Atacama.This fauna very close to those of Antwerp, had been brought in quantity by two "local" exhibitors. Let us quote the sharks Carcharocles megalodon, Isurus hastalis, Isurus escheri, Carcharodon carcharias, Pristiophorus sp., Hexanchus gigas, Hemipristis tightened, without forgetting small fauna. Imposing teeth of cachalots were sold at a rather correct price.On the other hand splendid teeth of Megalodon of Chile, hardly smaller than a hand, were negotiated between 7000 and 8000 FF (at the beginning of purse,and at the end the price had fallen but all of them had not found purchaser!)
A stand presented for the first time teeth of Megalodon of Miocene of New Caledonia, in rather bad condition and at prohibitive prices. I had the chance a few years ago to acquire some of them of much better quality …
Also let us quote by our friend Catto a tooth of Megalodon Miocene fairly damaged but coming from the Philippines, and a smaller but complete tooth of Mio-Pliocene from Rumst.
Miocene Teeth of North Carolina decorated several stands: Isurus hastalis rather large and reasonable, Carcharocles megalodon (small or expensive).
Very pretty craniums of tertiary mammals of South America were exposed without the protection of a window…the smallest (and the most expensive because the most complete) was stolen at the end of the show, Sunday evening, almost under my eyes!!!
Quaternary material from the North See, available on two stands of which the one of our member Hellin de Wavrin.
Some remainders of caverns bears at Nord Fossil: hands, cranium, etc… As well as ivory and hairs of mammoth coming from Siberia.
In short, quite beautiful things were to be seen in this show, even if many of the exposed specimens remained beyond the common people's purse.
| | |
| --- | --- |
| | |
| fossil SMAM2001 (photo PCN) | fossil SMAM2001 (photo PCN) |