If you have personal pictures of belgian fossils, why don't you send them to us for publication ?
See also :
for some fossils of the whole world.
http://www.thorame.frpour les fossiles de Provence et les Ammonites du monde entier.
Les Cnidaires fossiles (et principalement les Coraux)
les fossiles à la bourse de Sainte-Marie-aux-Mines
Pour d'autres photos consultez les sites bien connus.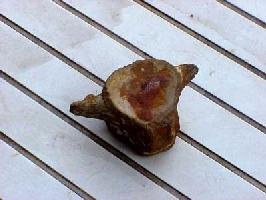 Vertèbre de dinosaure
Sulfur River - Ladonia - Texas - USA
coll Marc Jauniaux (distance entre les traits : 5cm)